We are thrilled to have been awarded 'Most Innovative Technology' at the FEM Americas EMMAs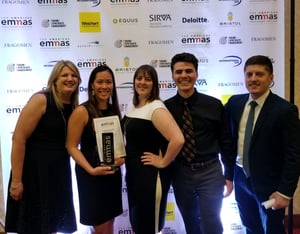 last night! This marks the third time since 2018 that we've been recognized for our innovative Global Mobility solutions that are powered by the Equus Ecosystem.
"Equus has gone after the 'Big Magillah' – the integration of disparate specialty systems into a platform that optimally enables a comprehensive representation of Mobility Program Management," commented the FEM judges.
With more than 50 connections and over 1.3 million transactions to date, the Equus Ecosystem is empowering our clients with data-driven insights, program efficiencies and an enhanced employee experience.
"The Equus Ecosystem has helped us to develop stronger relationships with our key global vendors. Connecting our instance of AssignmentPro with our vendor systems has allowed us to significantly streamline the service ordering process and receive real-time status information from our vendors. Together, we are realizing several benefits." Anna Potter, Continental.
We are very proud to be recognized as the most innovative technology, and will continue to innovate while providing outstanding service to our clients!
Read the Continental Case Study to learn how they integrated and automated their global mobility ecosystem.
Watch this video or download the brochure to learn more.
Congratulations to all the winners at last night's award ceremony. We are honored to be recognized and will continue our focus of delivering innovative technology to the global mobility industry.