Calling all Equus Tax Engine users. We launched a help center page to announce upcoming tax updates to key countries.
Keeping the Equus Tax Engine current is a continuous task. The in-house tax team monitors tax legislative updates using a combination of primary and secondary sources. When updates are enacted, we schedule the change into an upcoming release close the the effective date. These upcoming updates for key authorities are now published in the help center. Bookmark Equus Tax Engine – Upcoming Authority Updates in the help center for easy reference.
This page will be refreshed every Friday. Check it out as we are entering the busy season of tax updates!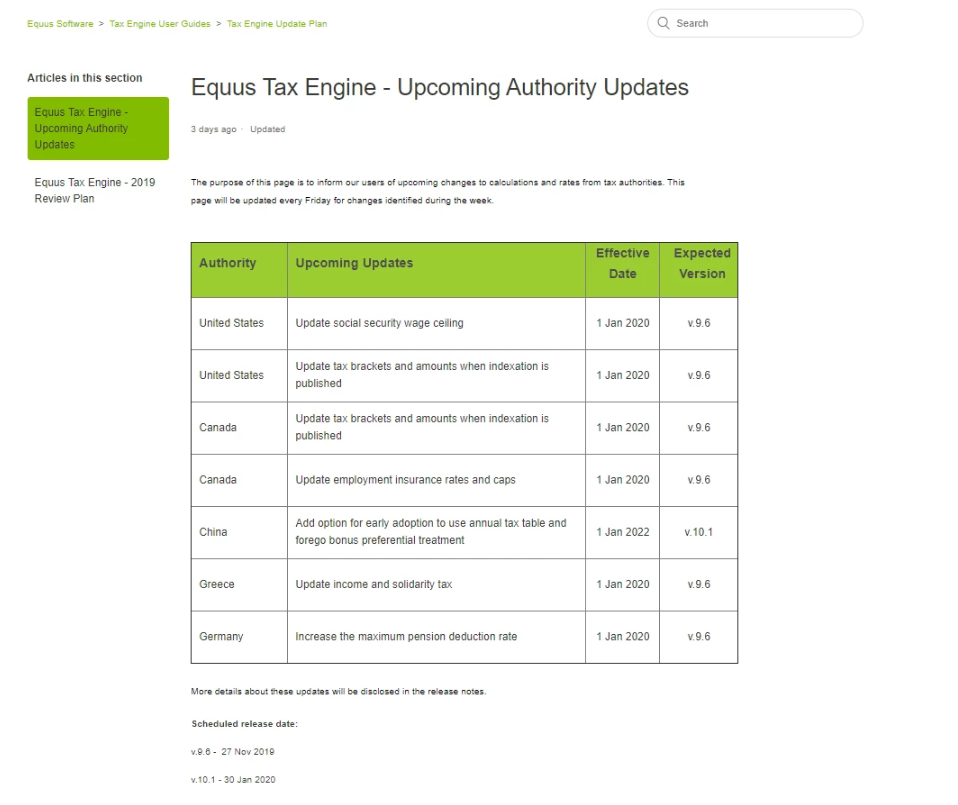 As a reminder, the Equus Tax Engine covers 149 tax authorities: 89 countries, 42 taxable American States, 10 Canadian provinces and 8 Swiss cantons. Scheduled releases are delivered in the same cycle as AssignmentPro, six times a year on the last Thursday of odd numbered months. If a material update is announced and becomes effective in between scheduled releases, the change will be provided in an interim release and published in the new Upcoming Authority Updates help center page.
Contact your Tax Lead or Client Solutions Representative if you would like more information.
About the Author
Latest Posts
Before her career in Global Mobility, Vickie held increasingly senior positions in financial and technology auditing, first at Coopers & Lybrand (PwC) and later became Vice President at JP Morgan Singapore before moving to New Zealand where she joined a tax practice. In those roles, she gained valuable experience in the areas of process and control management. She has always been fascinated by tax, an interest that motivated her to earn a Master's degree in Taxation, as well as international certifications from San Jose State University. 
Vickie joined Equus in 2007, as Equus' VP of Tax Solutions. Her responsibilities include maintaining all facets of tax calculations for over 150 supported authorities; overseeing release processes to deliver enhancements and periodic updates, and managing clients' implementation and support. She ensures that the tax intelligence built-in to Equus solutions is always accurate and up-to-date.
Look out for Vickie's blogs focused on tax updates within our software and industry insights on taxation within the Global Mobility Space.